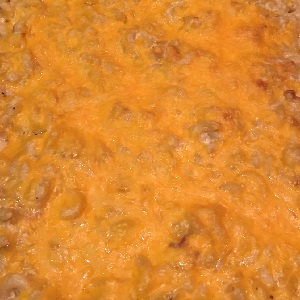 Beer Mac and Cheese Recipe
Our Beer Mac and Cheese recipe is a great side dish for any type of grilled or barbecued meat. It will definitely be a favorite during grill season.

Ingredients:
1 package elbow pasta shells
1/4 cup unsalted butter
1 shallot, chopped
1 garlic clove, chopped
1/4 cup all-purpose flour
1/4 teaspoon cayenne pepper
1 cup lager beer
2 cups half-and-half
2 teaspoons Dijon mustard
8 oz. Havarti cheese, grated (about 2 cups)
8 oz. extra-sharp Cheddar cheese, grated (about 2 cups), divided
Kosher salt
Freshly ground black pepper

Directions:
1. Cook pasta according to package directions until al dente.
2. Drain pasta.
3. Preheat oven to 425F.
4. Melt butter in a large skillet over medium heat.
5. Add shallot and garlic and cook until golden, 2-4 minutes.
6. Whisk in flour and cayenne and cook for 1-minute.
7. Gradually whisk in beer and cook 1-minute.
8. Whisk in half-and-half and mustard.
9. Bring to a boil and cook until thickened, 1-2 minutes.
10. Reduce heat to low and simmer, whisking occasionally, 5-minutes.
11. Remove from heat and whisk in Havarti and 1 cup of cheddar until smooth.
12. Season with salt and black pepper.
13. Fold in pasta.
14. Transfer mixture to a 3-quart baking dish.
15. Sprinkle with remaining cheddar cheese.
16. Bake until golden brown, 15-20 minutes.
17. Let stand for 5 minutes before serving.