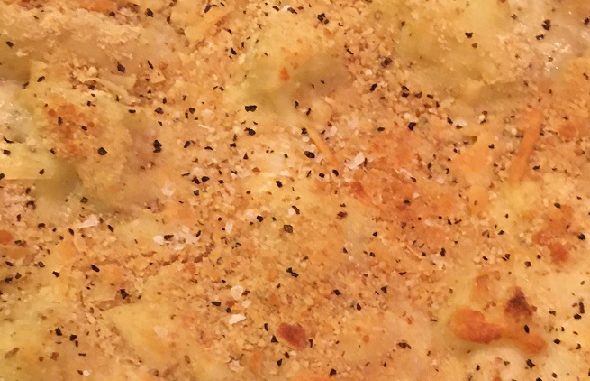 Cauliflower Gratin Recipe
A gratin is a culinary technique in which an ingredient is topped with a browned crust such as breadcrumbs, grated cheese, egg or butter. Our Cauliflower Gratin recipe uses Gruyere cheese and breadcrumbs to achieve a nice browned crust that tops tender cauliflower. We also make a homemade creamy cheese sauce that is to die for! This dish is a great side dish for just about any meal!

Ingredients:
1 (3-lb.) head of cauliflower, cut into large florets
Kosher salt
4 tablespoons unsalted butter
3 tablespoons all-purpose flour
2 cups hot milk
1/2 teaspoon freshly ground black pepper
1/4 teaspoon nutmeg
3/4 cup freshly grated Gruyere cheese
1/2 cup freshly grated Parmesan
1/4 cup fresh bread crumbs

Directions:
1. Preheat oven to 375F.
2. Cook cauliflower florets in a large pot of salted boiling water (5-minutes), then drain.
3. Melt 2-tablespoons of butter in a medium saucepan over low heat.
4. Add the flout and stir for 2-minutes.
5. Pour in the milk and bring to a boil (constantly stirring).
6. Boil for 1-minute to thicken, constantly stirring.
7. Turn off heat and add 1 teaspoon salt, pepper, nutmeg, 1/2 cup Gruyere and Parmesan.
8. Pour 1/3 of the sauce into the bottom of an 8x11x2″ pan.
9. Place the cauliflower over the cheese sauce, then top the cauliflower with the remaining sauce.
10. Combine the bread crumbs with 1/4 cup of Gruyere and sprinkle on top.
11. Melt the remaining 2 tablespoons of butter and drizzle over gratin.
12. Sprinkle with salt and pepper.
13. Bake for 30-minutes, until top is browned.