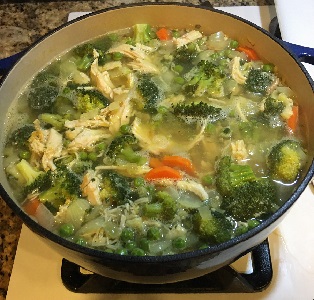 Chicken Detox Soup Recipe
This Chicken Detox Soup recipe is an easy to make recipe that is big on flavor. This soup is very nutritious and is a great recipe if your immune system is down. Even if it's not….. it's one tasty soup!

Ingredients:
2 tablespoons olive oil
1 large onion, peeled and chopped
2 cups celery, chopped
3 tablespoons fresh ginger, peeled and grated
4 garlic cloves, minced
2 lbs. boneless skinless chicken breast
2 quarts chicken broth
2.5 cups carrots, sliced
1 tablespoon apple cider vinegar
1/2 teaspoon crushed red pepper
1/4 teaspoon ground turmeric
3 cups broccoli florets
1.5 cups frozen peas
1/2 cup fresh chopped parsley
salt and pepper

Directions:
1. Heat oil in a large pot over medium heat.
2. Once oil begins shimmering, add onion, celery, ginger and garlic.
3. Sauté for until soft (5-6 minutes.)
4. Add chicken breasts, broth, carrots, apple cider vinegar, crushed red pepper, turmeric and 1 teaspoon salt.
5. Bring to a boil, then simmer for 25-minutes.
6. Remove the chicken to a cutting board, and let it cool.
7. Add broccoli, peas and parsley to the pot, cover and simmer.
8. Once chicken has cooled, shred the meat and add it back to the soup.
9. Once the broccoli is tender, salt and pepper as needed.