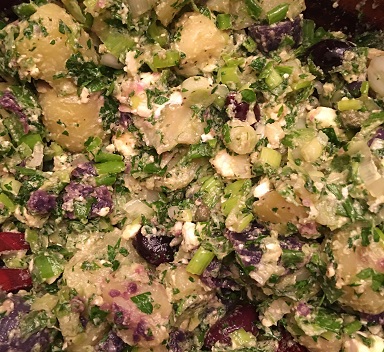 Greek Potato Salad Recipe
Our Greek Potato Salad recipe pops with the aromas of the herbs and it has layers of flavors. The dish is best when it's made ahead of time and has chance to sit at room temperature for an hour or so, as the flavors are further absorbed in the dish. This recipe is a perfect substitute for the heavy mayonnaise based potato salads, and would go great with just about anything!

Ingredients:
1 1/4 pound small new potatoes
6 scallions, (both green and white parts) finely chopped
1 tablespoon capers
10 Kalamata olives, pitted
1/2 cup cubed feta cheese (4-ounces)
1 bunch flat leaf parsley, finely chopped
2 tablespoons fresh mint, finely chopped

For the Dressing
6-8 tablespoons extra virgin olive oil
1 lemon, juiced
2 salted anchovies, finely chopped
3 tablespoons Greek yogurt
3 tablespoons fresh dill, finely chopped
3/4 teaspoon French mustard
Kosher salt
Fresh ground black pepper

Directions:
1. Bring a large pot of salted water to a boil.
2. Boil the potatoes for 30-minutes.
3. Drain and let them cool a bit.
4. When the potatoes are cool enough to handle, peel them with your fingers. If they are small, add them to a large bowl, otherwise cut them into large cubes.
5. Add the scallions, capers, olives, feta and fresh herbs and toss gently to mix.
6. Make the dressing by adding the olive oil, lemon juice and anchovies to a bowl and whisk thoroughly until the dressing emulsifies or thickens. If it is not thickening, add a little more olive oil.
7. Whisk in the yogurt, dill and mustard and salt and pepper to taste.
8. Dress the salad while the potatoes are still warm, gently tossing.
9. Let it sit at room temperature for an hour so that the flavors are better absorbed.