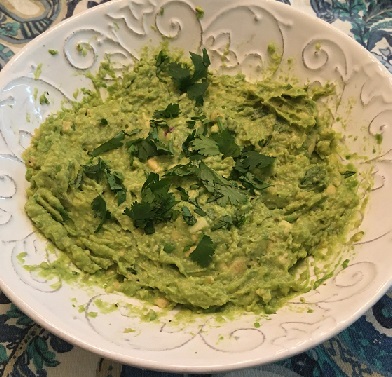 Guacamole Recipe
This Guacamole Recipe is easy to make and uses garlic as a secret ingredient. The garlic gives it some zing and blends well with the other ingredients, so that it doesn't overpower the guacamole.

Ingredients:
4 ripe avocados
2 tablespoons fresh lime juice
2 cloves of garlic, chopped fine
1/2 jalapeno, seeded and diced
Cilantro, rough chopped
Lime
Kosher salt
Fresh ground pepper

Directions:
1. Cut the avocados in half and remove the pit.
2. Use a spoon to scoop out the inside of the avocados into a bowl.
3. Mash and whip the avocados using a fork until you get the consistency you like.
4. Add the garlic cloves. (I use raw garlic, because I like garlic and it gives the guacamole a secret flavor.)
5. Mix in jalapeno and a pinch of cilantro.
6. Salt and pepper to taste.
7. Once finished, add the lime juice and stir. The acidity will prevent the guacamole from being discolored.