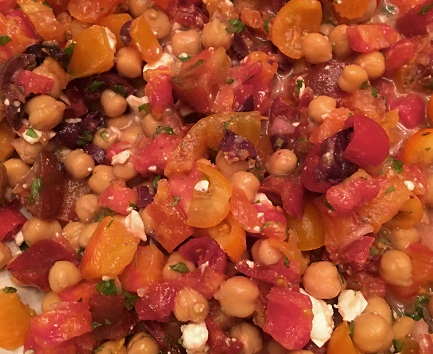 Heirloom Tomato Salad with Feta Recipe
Our Heirloom Tomato Salad with Feta recipe takes advantage of the dynamic flavors of an heirloom tomato. Heirloom tomatoes are in season from late summer into the fall season, and our recipe is the perfect end of summer salad as the tomatoes and mint really make this dish!

Ingredients:
2 Heirloom tomatoes, diced
1 shallot, finely chopped
1/4 cup mint, chopped
1 can garbanzo beans (drained)
1/2 cup Feta cheese, crumbled
10 Kalamata olives, chopped

Directions:
1. In a large bowl combine the heirlooms, shallots, mint and stir.
2. If too much juice builds up, drain the mixture.
3. Stir in the garbanzo beans and olives.
4. Top with the cheese, lightly stirring to combine.