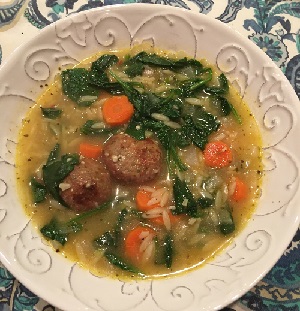 Italian Wedding Soup Recipe
Our Italian Wedding Soup recipe is a quick and easy recipe. We use store bought meatballs, but you can also make your own if you have time.

Ingredients:
4 tablespoons extra-virgin olive oil
1.5 cups chopped onion
2 cups carrot, sliced into rings
1 cup celery, chopped
4 cloves garlic, minced
6 cups unsalted chicken broth
6 ounces orzo
1.5 tablespoons fresh oregano, chopped
1/2 teaspoon Kosher salt
24 cooked meatballs
4 cups baby spinach
1/3 cup grated Parmesan cheese

Directions:
1. Heat 1-tablespoon oil in a stock pot over medium-high heat.
2. Add onion, carrot, celery and garlic and cook 4-5 minutes (until onion is translucent).
3. Add broth, cover and bring to a boil.
4. Add orzo, oregano and salt; cover and cook (9 minutes).
5. Stir in meatballs and spinach, cook 2-4 minutes (until spinach is wilted and meatballs are heated through.)
6. Add cheese and stir in 3 tablespoons oil.