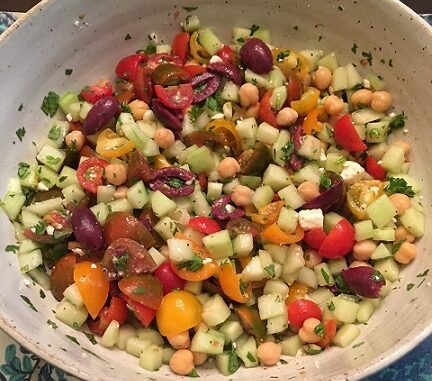 Mediterranean Cucumber Salad Recipe
This Mediterranean Cucumber Salad recipe is the perfect side dish for a Mediterranean entrée. The salad is fresh, light and full of flavor.

Ingredients:
2 cucumbers, seeded and diced
25 cherry tomatoes, quartered
50 fresh mint leaves, rough chopped
1 lemon, juiced
15 Kalamata olives, pitted and halved
1 tablespoon parsley, rough chopped
3 tablespoons crumbled Feta cheese
1/4 teaspoon salt
1/4 teaspoon fresh ground black pepper
1/2 can drained garbanzo beans
2 tablespoon extra virgin olive oil

Directions:
1. In a large bowl add ingredients and mix to blend well.