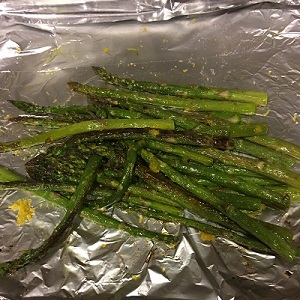 Oven Roasted Asparagus Recipe
Our Oven Roasted Asparagus recipe is a delicious side dish for meats and fish. All you need is asparagus, olive oil and salt to create a great tasting side for your next meal!

Ingredients:
1 lb. asparagus (1/2″ diameter)
2 tablespoons olive oil
Kosher salt
Lemon zest (optional)

Directions:
1. Preheat oven to 500F.
2. In a large bowl, mix the asparagus, olive oil and salt.
3. Place the asparagus in a single layer on a double layer of heavy-duty aluminum foil.
4. Fold the aluminum ends up to form a tray.
5. Roast for 5-minutes.
6. With tongs toss the spears and roast for another 5-minutes.
6. Top with lemon zest.