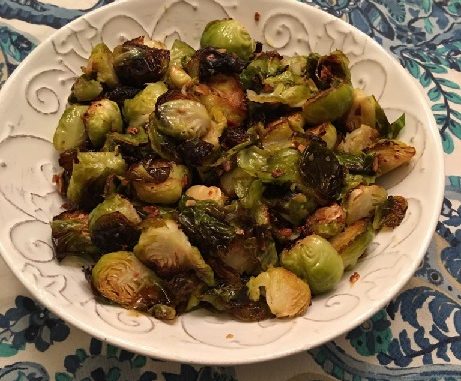 Roasted Brussels Sprouts Recipe
This Roasted Brussels Sprouts recipe is very easy and flavorful. Often times roasting Brussels Sprouts can dry out the leaves too much. This recipe produces perfect Brussels Sprouts!

Ingredients:
1.5 pound Brussels Sprouts
4 garlic cloves, chopped
Kosher Salt
Freshly ground black pepper
1/2 cup olive oil

Directions:
1. Preheat oven to 400 degree F.
2. Halve the Brussels Sprouts. If you have any large sprouts, quarter them.
3. Place the Brussels sprouts into a large baking dish.
4. Add the garlic and sprinkle with the salt and pepper.
5. Add the olive oil and toss to coat.
6. Roast the Brussels sprouts for 35-minutes.
7. While the Brussels sprouts are still in the oven, raise the temperature to 450 degrees F and roast for an additional 10-minutes.
8. Transfer Brussels sprouts to a serving dish, and toss to keep them moist.