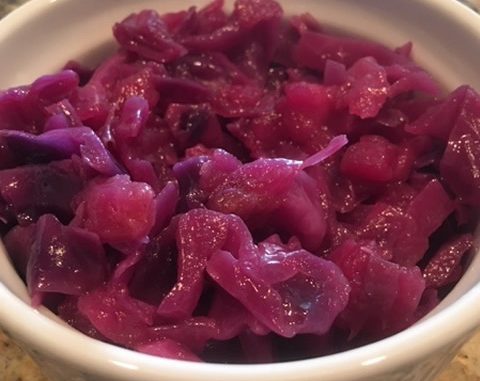 Rotkohl Red Cabbage Recipe
This Rotkohl Red Cabbage recipe is the perfect balance between sweet and tart. Most people instantly think of German cabbage dishes as being sour or very tart, but the truth is this red cabbage dish will surprise you! The cabbage and vinegar is balanced with sugar and apple which really blends nice with the acidity of the dish. This dish is the perfect side and pairs great with beef roasts, Rouladen and Sauerbraten.

Ingredients:
3 tablespoons Canola Oil
1 small head of red cabbage, shredded
2 medium tart green apples, peeled and chopped
1 cup water
1/4 cup sugar
2/4 teaspoon salt
1/2 teaspoon pepper
1/8 teaspoon ground cloves
1/4 cup of white vinegar

Directions:
1. Heat oil in a Dutch oven over medium heat.
2. Once hot, add cabbage and apples and sauté for 2-3 minutes.
3. Stir in water, sugar, salt, pepper and cloves and bring to a boil.
4. Reduce heat, cover and simmer for 45 minutes until the cabbage is tender.
5. Stir in vinegar and serve.