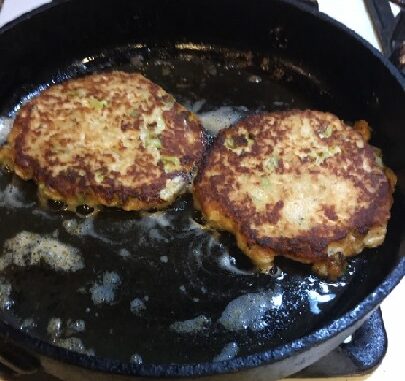 Salmon Patty Recipe
This Salmon Patty recipe uses canned salmon instead of wasting a good salmon filet. It makes for a great appetizer, can be used in a sandwich or even as a main course. This is an easy recipe that tastes great!

Ingredients:
1 can salmon (14.75 oz.)
1/3 cup bread crumbs
2 green onions, chopped
1/4 cup chopped celery
1/4 cup mayonnaise
1 egg, beaten
4 tablespoons butter
lemon and dill for garnish

Directions:
1. Drain salmon.
2. In a large bowl combine salmon, bread crumbs, green onion, celery, mayonnaise and beaten egg.
3. Mix ingredients and form patties.
4. Melt butter in a large sauté pan.
5. Fry salmon patties over medium heat, until they are golden brown and cooked through.
6. Add a little lemon juice and enjoy!