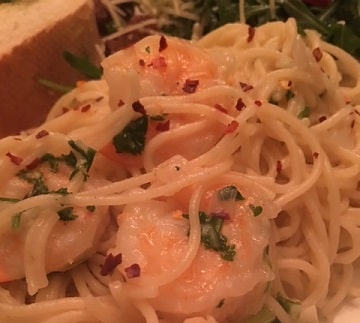 Shrimp and Pasta Bordelaise
This Shrimp and Pasta Bordelaise recipe doesn't use the traditional Bordelaise. Typically a Bordelaise sauce would consist of red wine and go over meat dishes; but we substitute a dry white wine to create the perfect sauce to accompany the shrimp and noodles.

Ingredients:
1 pound angel hair pasta
1 cup butter
5 chopped shallots
3 tablespoons chopped garlic
2 pounds peeled and deveined medium sized shrimp
1/2 cup dry white wine
1 teaspoon white pepper
1 bunch chopped scallions
3 tablespoons chopped fresh parsley

Directions:
1. Boil the noodles in boiling water according to the package directions and drain.
2. Melt 1 cup butter in a large sauté pan and sauté the shallots for 30-seconds.
3. Add the garlic and cook for an additional 30-seconds.
4. Add shrimp and cook over medium-high heat until the shrimp tails curl.
5. Reduce heat to medium and add wine.
6. Cook the mixture for 5-minutes, then add white pepper, scallions and parsley.
7. Lower the heat and simmer for 2-minutes.
8. Just before serving, toss the drained pasta in the sauce to recoat the noodles and place on serving dishes.
9. Ladle shrimp bordelaise sauce on the noodles.

Wine Pairings:
We preface all of our wine pairing suggestions by letting you know that it's really a matter of personal taste. While we do offer our opinions and why we selected a specific varietal, there is no right or wrong answer when pairing a wine with your dinner.

Chardonnay
This Shrimp and Pasta Bordelaise recipe uses a dry white wine vs. the traditional red wine. It is rich with butter, so I like something a little more acidic, crisp and unoaked to accompany the dish. I would recommend a Chablis/ White Burgundy wine. Follow the link to our wine review site to find our favorite Chablis wines-LetsHaveWine.com

Have you tried this Shrimp and Pasta Bordelaise recipe? If so, leave us your comments below!