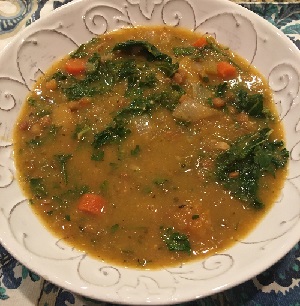 Slow Cooker Detox Lentil Soup Recipe
This Slow Cooker Detox Lentil Soup recipe is a healthy recipe that is full of flavor. The flavors of the soup get better over time, so it's even better the following day!

Ingredients:
2 cups butternut squash, peeled and cubed
2 cups carrots, peeled and sliced
2 cups potatoes, chopped
2 cups celery, chopped
1 cup green lentils
3/4 cup yellow split peas
1 onion, chopped
6 cloves garlic, minced
9 cups vegetable or chicken broth
2 teaspoons herbs de Provence
1 teaspoon salt
2 cups kale, stems removed, chopped
1 cup parsley, chopped
1/2 cup olive oil
1 teaspoon sherry
1 teaspoon lemon juice
Parmesan cheese

Directions:
1. Add squash, carrots, potatoes, celery, lentils, peas, onion, garlic, broth, herbs de Provence and salt to slow cooker.
2. Cover and cook on high for 5-6 hours or on low for 7-8 hours.
3. Once done, add 4-cups of soup to a blender with the olive oil.
4. Pulse until semi-smooth and creamy.
5. Add back to pot and stir to combine.
6. Stir in kale and parsley.
7. Turn off the heat and let it sit for 20-minutes.
8. Add sherry and lemon juice.
9. Serve with crusty bread and Parmesan cheese.