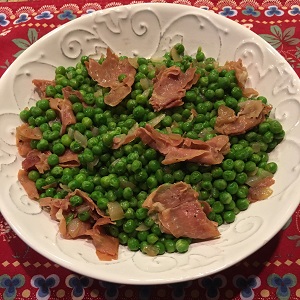 Sweet Peas with Prosciutto Recipe
Our Sweet Peas with Prosciutto recipe is a great side dish that combines the sweet flavors from the peas with the saltiness of the Prosciutto. It's an easy recipe to make that requires very little time and effort!

Ingredients:
1/4 cup extra-virgin olive oil
2 oz. prosciutto, roughly chopped
1 small white onion, minced
1 lb. fresh or frozen green peas
1 tablespoon water
Kosher salt
Freshly ground black pepper

Directions:
1. Heat oil in a large skillet over medium heat.
2. Add prosciutto and onions and cook until onions are soft and prosciutto begins to crisp (6-8 minutes).
3. Add peas and 1 tablespoon water.
4. Toss until hot (3-minutes.)
5. Season with salt and pepper to taste.