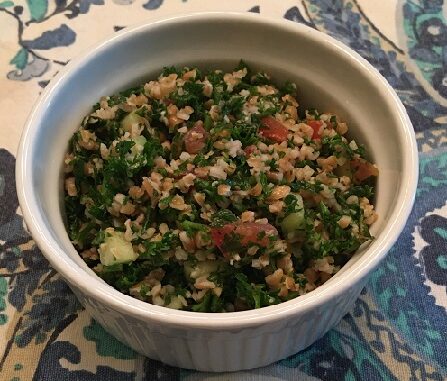 Tabbouleh Recipe
Our classic Tabbouleh recipe is light, fresh and the perfect salad to accompany Mediterranean entrees. The dish is even better when it has some time for the flavors to marinate, so make it early and refrigerate!

Ingredients:
1 cup bulgur wheat
1.5 cups boiling water
1 cup minced fresh parsley leaves
1 cup minced fresh mint leaves
1/2 cup finely chopped yellow onion
3 tomatoes diced
2 cucumbers, seeded and diced
3 tablespoons olive oil
3 tablespoons lemon juice, or to taste
3/4 teaspoon sea salt

Directions:
1. In a large bowl, pour the water over the bulgur wheat and let it stand for 1-hour.
2. Add the chopped herbs and vegetables and stir to combine.
3. In a small bowl, combine the oil, lemon juice and salt.
4. Add the oil mixture to the mixture and mix well.
5. Cover bowl with plastic wrap and refrigerate for 4-6 hours.