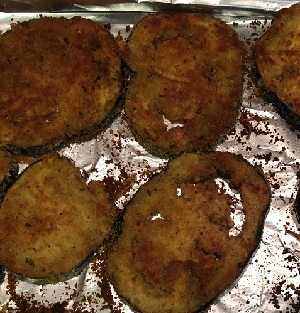 Baked Garlic Parmesan Eggplant Recipe
Our baked garlic Parmesan eggplant recipe is an easy to make recipe that goes great as an appetizer or side dish. The eggplant is breaded and baked in the oven.

Ingredients:
1 large eggplant
6 tablespoons unsalted butter, melted
1 cup breadcrumbs
1/4 cup shredded Parmesan cheese
1/4 teaspoon smoked paprika
1/2 teaspoon garlic powder
1/2 teaspoon Italian seasoning

Directions:
1. Slice eggplant into 1/2″ disks.
2. Place disks on a cooling rack set over a baking sheet, and sprinkle with salt. Let it rest for 30-minutes.
3. Preheat oven to 400F.
4. Melt butter in a bowl.
5. In a separate bowl, mix breadcrumbs, cheese, paprika, garlic powder and Italian seasoning.
6. Dip each eggplant into the butter, then into the breading mixture and set on an aluminum foil lined baking sheet.
7. Bake for 15-minutes, then flip each disk and bake for an additional 7-minutes.
8. The eggplant should be golden brown and the breading crispy.