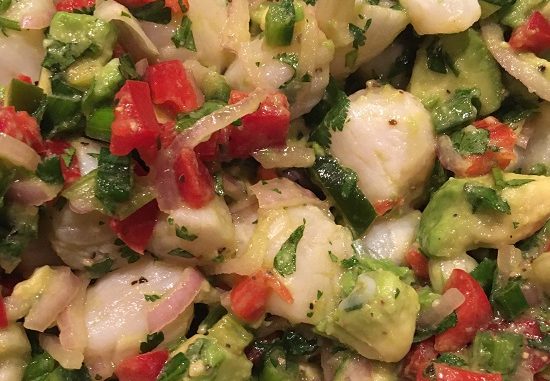 Bay Scallop Ceviche Recipe
Ceviche is a seafood dish where diced cubes of raw fish or shellfish are marinated in lemon or lime juice. The citrus causes the fish protein to become opaque and firm, all while absorbing the flavor. Our Bay Scallop Ceviche Recipe uses Bay Scallops which is a smaller variety of scallop. The scallops marinate in lime juice, are combined with fresh vegetables and are best served with tostadas!

Ingredients:
1 lb. Bay Scallops
3/4 cup freshly squeezed lime juice (5-8 limes)
Kosher salt
Freshly ground black pepper
1 cup diced cucumber, unpeeled and seeded
2 small shallots, halved and thinly sliced
3 tablespoons scallions diagonally sliced, white and green parts
1 avocado diced
1/2 red bell pepper, diced
1/3 cup cilantro, rough chopped
1 jalapeno pepper, seeded and diced
2 garlic cloves, minced
Olive oil
Tostadas for serving

Directions:
1. In a medium bowl combine the scallops, 1/2 cup lime juice and 1 teaspoon salt and allow to sit at room temperature for 1-hour. Stir occasionally to ensure that everything is well combined.
2. In a separate bowl, combine cucumbers, shallots, avocado, bell pepper, cilantro, jalapeno pepper and garlic.
3. In a small bowl, whisk 1/4 cup lime juice, 1/4 cup olive oil, 1 teaspoon salt and 1/2 teaspoon pepper.
4. Pour mixture over the vegetables and combine.
5. Transfer scallops with a slotted spoon to vegetables.
6. Stir to combine and serve with tostadas.