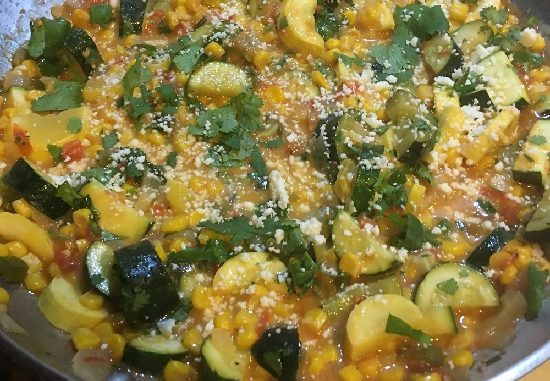 Calabacitas Recipe
Calabacitas is a vegetarian side dish that simply translates to "little squash." Calabacitas is popular throughout New Mexico and southern Texas and it mixes summer squash with corn and peppers. Our Calabacitas recipe makes a great side dish for Mexican entrees.

Ingredients:
1 tablespoon olive oil
1 small onion, diced
1 poblano pepper, diced
1 jalapeno pepper, deseeded and diced
1 15-ounce can whole kernel corn, drained
2 plum tomatoes, diced
1 large zucchini, sliced into half moons
1 large yellow squash, sliced into half moons
4 cloves garlic, minced
2 teaspoons coarse kosher salt
1/4 teaspoon freshly ground black pepper
1/4 teaspoon dried oregano
1/4 teaspoon ground cumin
1/4 cup water
1/2 cup shredded cheddar cheese
1/4 cup milk
Crumbled cotija cheese
Chopped cilantro

Directions:
1. Heat oil in a Dutch oven over medium-high heat. You can also use a large skillet with a lid.
2. Add onions, poblanos and jalapenos and sauté until vegetables begin to soften (5-minutes).
3. Add corn and tomatoes and sauté for 5-minutes.
4. Add zucchini, squash, garlic, salt, pepper, oregano and cumin; stir to combine and cook for 5-minutes.
5. Add water, reduce heat to low and cover for 5-minutes.
6. Uncover, add shredded cheese and milk and stir until the cheese has completely melted.
7. Remove from heat and garnish with cotija cheese and chopped cilantro.