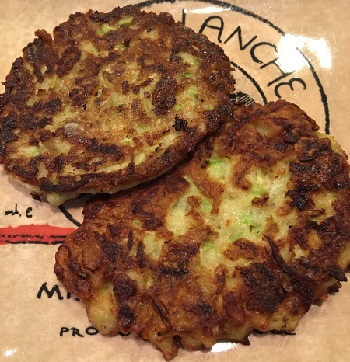 Zucchini Fritters Recipe
Our Zucchini Fritters recipe is a quick recipe to make, and the fritters go great as a side dish or even a snack. The fritters are low in calories, and are a great way to sneak vegetables into a meal!

Ingredients:
3 cups grated zucchini
1 teaspoon salt
1/4 cup all-purpose flour
1/4 cup grated Parmesan
2 garlic cloves, minced
1 large egg, beaten
Kosher salt
Freshly ground black pepper
2 tablespoons olive oil

Directions:
1. Place grated zucchini into a colander over the sink and toss with salt.
2. Let zucchini rest for 10-minutes.
3. Drain zucchini, but pressing the moisture out of it.
4. In a large bowl, combine zucchini, flour, Parmesan, garlic and egg.
5. Season with a pinch of salt and pepper.
6. Heat oil in a large skillet, over medium-high heat.
7. Spoon a tablespoon of batter of batter for each fritter into the skillet, and press down with the back-end of the spatula.
8. Make sure that the fritter doesn't stick, and cook for 2-minutes.
9. Flip the fritter and cook for an additional 1-2 minutes.