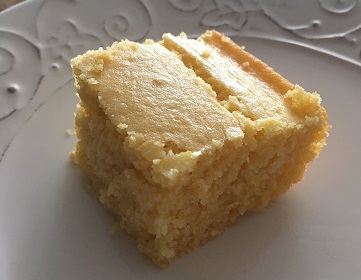 Cornbread Recipe
This Cornbread recipe is unique, as it uses self-rising floor over the common all-purpose flour. This adds an element of fluffiness to the bread. The cornbread turns out nice and moist and you can enjoy it without a large glass of water or milk!

Ingredients:
1 cup yellow corn meal
1 cup self-rising flour
1/4 cup granulated sugar
1 tablespoon baking powder
1 teaspoon salt
1 cup milk
1/3 cup vegetable oil
1 large egg, lightly beaten

Directions:
1. Add the corn meal, flour, sugar, baking powder and salt in a medium sized bowl.
2. In a separate bowl combine the milk, oil and egg and mix well.
3. Add milk mixture to flour mixture and stir until it is well blended.
4. Pour mixture into a 13×9″ greased baking pan.
5. Bake at 400 degrees for 20-25 minutes.
*Tip- you can insert a toothpick into the center of the cornbread. If it comes out clean, the mixture is fully cooked.