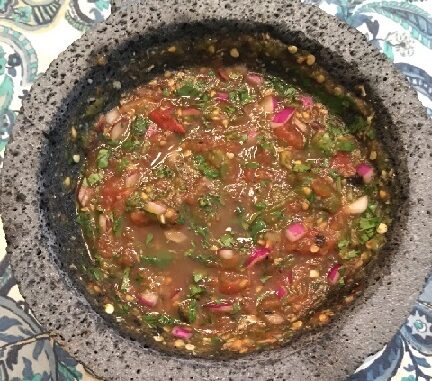 Fire Roasted Salsa Recipe
This Fire Roasted Salsa recipe is easy to make, produces a chunky salsa and uses a molcajete to mash the roasted ingredients. There is nothing better than fresh salsa and this recipe will go great with your favorite Mexican dishes.

Ingredients:
2 large tomatoes
4 cloves garlic, peeled
1 large jalapeno
Kosher salt
2 tablespoons red onion, diced
Cilantro, rough chopped
Lime

Directions:
1. Heat a flat grill pan over high heat.
2. Place tomatoes, garlic and jalapeno on grill pan.
3. Once the you have browned all sides of the garlic, remove from grill pan.
4. Once jalapeno is charred on all side remove from grill.
5. Once tomato is soft and charred, remove from grill.
6. Add the garlic to the molcajete and mash into a fine past.
7. Add a pinch of Kosher salt to the paste.
8. Cut off the jalapeno stem and mash in the molcajete.
9. Cut off the ends of the tomatoes and mash in the molcajete.
10. Add fresh red onion and chopped cilantro to taste.
11. Finish with any salt and a pinch of lime.