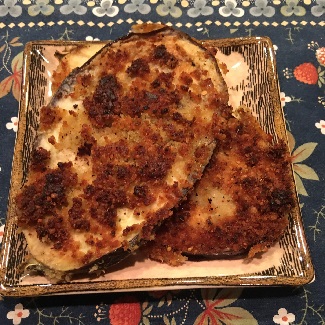 Fried Eggplant Recipe
Our Fried Eggplant Recipe is an easy recipe to make. The most difficult part is cutting the eggplant. We would recommend using a mandoline to ensure precise cuts.

Ingredients:
2 medium sized eggplants
Kosher salt
1.5 cups panko (Japanese breadcrumbs)
3/4 teaspoon dried oregano
1/2 teaspoon freshly ground black pepper
6 tablespoons finely grated Parmesan, divided
3/4 cups all-purpose flour
3 large eggs, beaten to blend
2/3 cups olive oil

Directions:
1. Slice eggplants lengthwise into 1/2″ pieces.
2. On a rimmed baking sheet, line it with several layers of paper towels.
3. Salt both sides of the eggplant pieces and arrange in a single layer on top of the paper towels.
4. Cover the eggplant with another row of paper towels and arrange additional eggplant pieces on top. Repeat the process until all of the eggplant slices are on the baking sheet and layered between paper towels.
5. Place an empty baking sheet on top of the top row of eggplant slices that are covered with paper towels.
6. Place a heavy object on the top of the baking sheet, and leave it for 60-minutes.
7. In a large bowl, combine the panko, oregano, pepper and Parmesan.
8. Place flour in a shallow bowl and eggs in a third bowl.
9. Dredge eggplant slices in flour, then dip in the egg, allowing excess to drip off.
10. Coat eggplant with breadcrumbs, shaking off excess and place on a wire rack.
11. In a large skillet, heat oil over medium-high.
12. Cook eggplant slices 2-1/2 minutes per side, until golden brown.
13. Transfer to paper towels and press with paper towels to absorb oil.