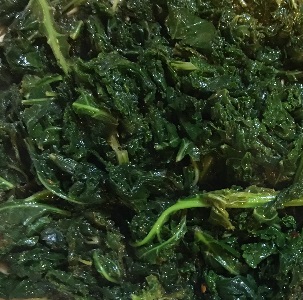 Lemon Garlic Kale Recipe
Our Lemon Garlic Kale recipe is an easy and healthy recipe to make. This dish is a good side for meats, poultry and fish entrées.

Ingredients:
1 large bunch of kale
3 tablespoons extra virgin olive oil
4 cloves garlic, peeled and sliced
Pinch of red pepper flakes
1/2 cup dry white wine
1/4 teaspoon salt
Half a lemon

Directions:
1. Pull the kale leaves off of the stems.
2. Coarsely chop the kale into 2″ pieces.
3. Heat the oil in a large skilled, over medium-high heat.
4. When the oil shimmers add the garlic and red pepper flakes.
5. Cook to soften the garlic, but make sure it does not brown.
6. Add the kale, wine and salt.
7. Cook until the kale turns bright green, is soft and wilted (around 7-8 minutes.)
8. Stir in lemon juice and serve.