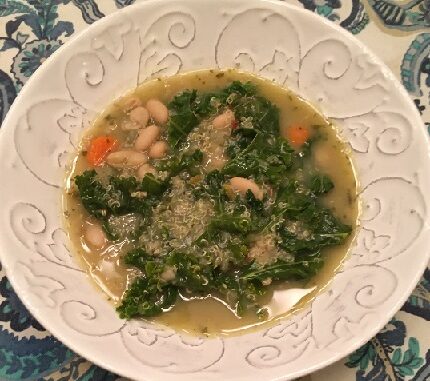 Slow Cooker Tuscan White Bean Soup Recipe
Our slow cooker Tuscan white bean soup recipe is a great soup for Fall and Winter. It's not a heavy soup, but will definitely warm you up in the cooler months!

Ingredients:
6 cups chicken stock
1/2 cup uncooked quinoa
1 medium sized sweet onion, diced
2 carrots, shredded and cut into small circles
1/4 cup basil pesto
1/2 teaspoon crushed red pepper flakes
4 sage leaves
Kosher salt
Fresh ground black pepper
1 parmesan rind
3 tablespoons lemon juice
1 tablespoon lemon zest
2 cups roughly torn Tuscan kale
2 14 oz. cans cannelloni beans, drained
Grated parmesan for serving

Directions:
1. In the slow cooker, combine the chicken stock, quinoa, onion, carrots, pesto, red pepper flakes, sage, parmesan rind, pinch of salt and pepper.
2. Cover and cook on low for 4-5 hours or on high for 2-3 hours.
3. Add lemon zest, lemon juice, kale and beans and cook on low for an additional 30-minutes.