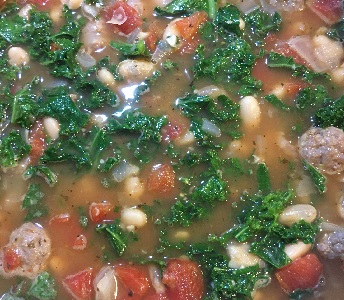 White Bean Sausage Soup Recipe
This White Bean Sausage Soup recipe is a quick and easy dish to make. The soup will easily become one of your favorites during the fall or winter months!

Ingredients:
1 tablespoon olive oil
1 lb. Spicy Italian sausage, cut into 1/2″ slices
1 medium onion, diced
4 garlic cloves, minced
2 cans cannellini beans, drained
1 can diced tomatoes, undrained
1 can chicken broth
1.5 cups water
1 teaspoon Italian seasoning
1/2 teaspoon ground pepper
4 cups coarsely chopped kale (around one bunch)

Directions:
1. Heat oil in a Dutch oven or large pot over medium-high heat.
2. Cook sausage, onion and garlic, until sausage is browned (5-10 minutes.)
3. Drain off the fat.
4. Stir in beans, tomatoes, broth, water, Italian seasoning and pepper.
5. Bring to a boil, then reduce heat, cover and simmer for 5-minutes.
6. Stir in kale and simmer uncovered 1-3 minutes, until kale is tender.