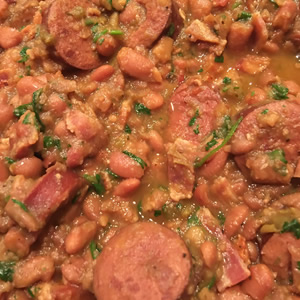 Slow Cooker Drunken Beans Recipe
Our Slow Cooker Drunken Beans recipe, also known as frijoles borrachos, uses Negra Modelo to flavor the pinto beans. This is an easy, set it and forget it recipe that doesn't require any soaking. This dish goes great over rice, as a side for barbecued or smoked meats as well as Mexican entrées.

Ingredients:
1 pound pinto beans
5.5 cups water
12 ounces Negra Modelo
1 tablespoon olive oil
1 pound pork smoked sausage, cut into slices.
1 onion, diced
1 bell pepper, diced
4 garlic cloves, minced
2 jalapeno peppers, seeded, deveined and chopped
2 Roma tomatoes, chopped
2 teaspoons chili powder
1 teaspoon Mexican oregano
1 teaspoon salt
1/2 teaspoon cumin
1 tablespoon brown sugar
1 bunch cilantro, chopped
1 pound bacon, cooked

Directions:
1. Rinse and sort beans.
2. Add oil to a large sauté pan and heat to medium heat.
3. Add sausage and sauté for 5-minutes.
4. Add onions, bell pepper, jalapenos and garlic and sauté until soft.
5. Add tomatoes and sauté for 1-2 minutes.
6. Transfer meat and vegetables to the crock pot.
7. Add beans, water, beer, chili powder, oregano, salt, cumin and brown sugar.
8. Stir ingredients and set the the slow cooker on high for 6-7 hours.
9. For a creamier consistency, drain some of the liquid and mash the beans.
10. Add salt and pepper to taste.
11. Stir in chopped bacon and top with cilantro.