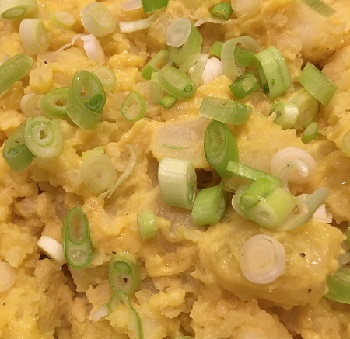 Potato Salad Recipe
Our Potato Salad recipe is an easy recipe to make, and is best served warm. This potato salad makes a 'mayo-grette' dressing which flavors the potato salad.

Ingredients:
6 medium sized potatoes (around 2 lbs.)
1/4 cup mayonnaise
1/4 cup mustard
1/4 cup water
1/2 cup olive oil
Kosher salt
Freshly ground black pepper
2 tablespoons dill relish
Paprika
Scallions

Directions:
1. Boil the potatoes for 45 minutes.
2. Drain and set aside to cool.
3. Mix the mayonnaise, mustard, water and oil until emulsified.
4. Season with a dash of salt and pepper.
5. Use a knife and remove the skin of the potatoes.
6. Slice the potatoes into bit sized pieces and put into a large bowl.
7. Pour the 'mayo-grette' mixture onto the potatoes and gently fold (trying not to break up the potatoes too much.)
8. Season with salt and pepper.
9. Fold in the dill relish.
10. Top with scallions and a dusting of paprika.