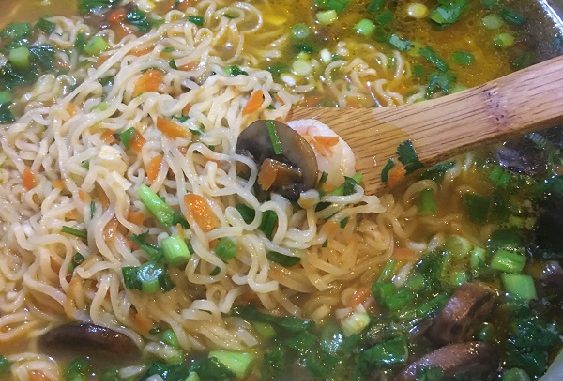 Shrimp Ramen Recipe
Ramen is a Japanese noodle soup often flavored with fish or meats. Our Shrimp Ramen recipe is an easy quick dish that combines fresh vegetables with shrimp.

Ingredients:
2 tablespoons olive oil
8 ounces sliced shitake mushrooms
1 large carrot, grated
8 cloves garlic, minced
8 cups chicken broth
2 tablespoons freshly grated ginger
2 teaspoons soy sauce
2 teaspoons sesame oil
12 oz. ramen noodles
1 pound shrimp, deveined and peeled
Chopped scallions and cilantro for garnish

Directions:
1. Heat oil in a large pot over medium-high heat.
2. When oil shimmers, add mushrooms and carrot and cook until they soften (5-minutes).
3. Add garlic and cook for 30-seconds.
4. Add broth, ginger, soy sauce and sesame oil.
5. Cover, turn heat to high and bring to a boil.
6. Once boiling, add noodles and shrimp, cover and cook for 3-minutes.
7. Add scallions and cilantro and serve.