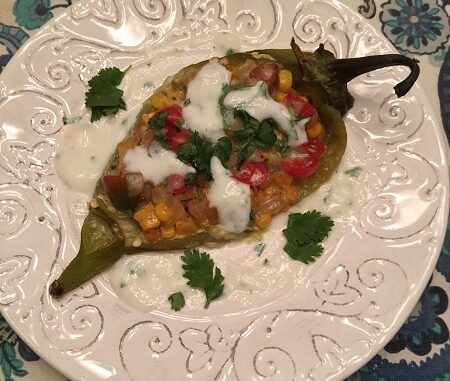 Stuffed Hatch Chile Recipe
Our Stuffed Hatch Chile recipe is a great way to utilize hatch chilies. It is a versatile dish that can be used as an appetizer or a side dish.

Ingredients:
4 Hatch chilies
1 onion, diced
2 tablespoons olive oil
1 can sweet corn
1 teaspoon cayenne pepper
1/4 cup Greek yogurt
1/2 lime juiced
3 teaspoons cilantro
1 cup quartered cherry tomatoes
Shredded Monterey Jack cheese

Directions:
1. Place Hatch Chilies on a baking sheet lined with aluminum foil and broil 5-6 minutes per side (chilies should be charred and skin blistering.)
2. Cool peppers.
3. Place olive oil in a large skillet and sauté onions 3-5 minutes.
4. Add corn and heat the corn through (1-2 minutes.)
5. Add cayenne and stir. Then take off of the heat.
6. In a medium sized bowl, add yogurt, lime juice and 1.5 teaspoons cilantro. Whisk to combine.
7. Peel the hatch chilies.
8. Cut a vertical slit in one side of the pepper and open (butterfly.)
9. Remove the seeds.
10. Stuff peppers with corn mixture, top with tomato and cilantro.
11. Top peppers with cheese and return to the oven.
12. Bake at 350F for 10-15 minutes.