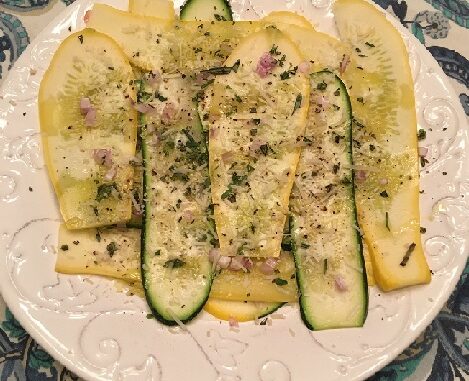 Summer Squash Carpaccio Recipe
This Summer Squash Carpaccio recipe is a fun and creative way to enjoy summer squash. It is very versatile and can be served with most entrees.

Ingredients:
1 Yellow Squash
1 Zucchini
1 Minced shallot
Italian seasoning
Lemon Juice
Olive Oil
Kosher salt
Fresh, ground black pepper
Shredded Parmesan cheese

Directions:
1. Use a mandoline to slice paper thin slices of the yellow squash and zucchini.
2. Arrange a few slices on a plate in a single layer.
3. Top with some of the shallots, Italian seasoning, lemon juice, olive oil and Parmesan.
4. Repeat to make around 4-5 layers.
5. Let it marinate for at least 20-minutes before serving.