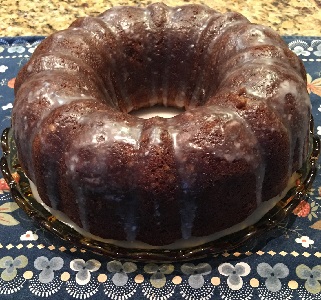 Zucchini Bundt Cake with Vanilla Glaze Recipe
Our Zucchini Bundt Cake with Vanilla Glaze Recipe will make you feel less guilty about indulging in dessert, as it uses shredded zucchini!

Ingredients:
2 cups all-purpose flour
1 cup canola oil
3 large eggs
1 cup of brown sugar
1/2 cup of granulated sugar
1 teaspoon baking soda
1 teaspoon baking powder
3/4 teaspoon of salt
2 cups of shredded zucchini
1 teaspoon vanilla
1 teaspoon lemon zest
1.5 teaspoons of cinnamon
1/4 teaspoon ginger
1/4 teaspoon of nutmeg or allspice (or both!)

Glaze Ingredients:
1 cup of powdered sugar
3 tablespoons of buttermilk (or milk or cream)
1 teaspoon vanilla paste
Pinch of salt
(If you want more glaze, you can double the ingredients)

Directions:
1. Preheat oven to 325 degree F.
2. Spray a 12 cup Bundt pan with baking spray. Set aside.
3. In a large mixing bowl mix flour, baking soda, baking powder, salt, cinnamon, and spices. Set aside.
4. In a large mixing bowl or stand up mixer, beat sugar, oil, and eggs until blended.
5. Add in flour mixture until well mixed (2-3 minutes).
6. Fold in shredded zucchini.
7. Pour into prepared Bundt pan.
8. Bake for 50-55 minutes.
9. Remove from oven and cool in pan.
10. Once cooled, invert onto a cake plate.
11. For the glaze, whisk together the sugar, milk (or cream), vanilla until smooth.
12. Drizzle over cake allowing the excess to be added to the center hole (this can be used to drizzle over individual slices).