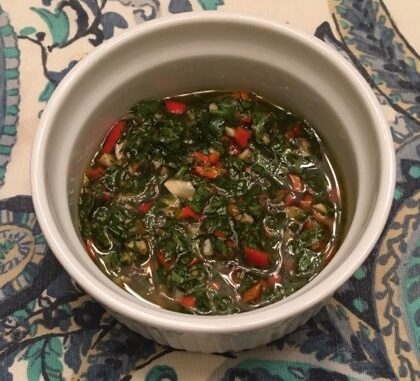 Argentinian Chimichurri Recipe
Chimichurri is an uncooked sauce that can be used as a marinade, to baste meats or as a table condiment for grilled meats. Chimichurris are popular in Argentina and Uruguay. Our Argentinian Chimichurri recipe doesn't use a food processor, which adds more character to the sauce. The chimichurri goes great on red meats, poultry and fish.

Ingredients:
1/2 cup olive oil
2 tablespoons red wine vinegar
1/2 cup flat leaf parsley, finely chopped
4 garlic cloves, finely chopped
2 small red chilies, deseeded and finely chopped
1 teaspoon dried oregano
1 teaspoon Kosher salt
1/2 teaspoon ground black pepper

Directions:
1. Mix all ingredients together in a bowl.
2. Let the flavors marinate for at least 2-hours before using.