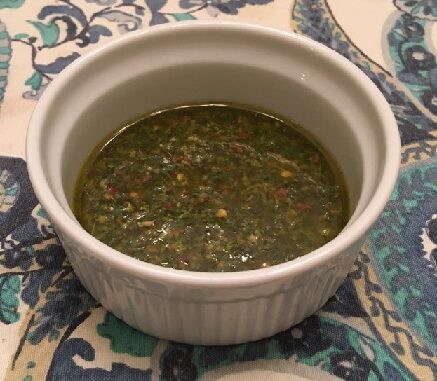 Texas de Brazil Chimichurri Recipe
Chimichurri is an uncooked sauce that can be used as a marinade, to baste meats or as a table condiment for grilled meats. Chimichurris are popular in Argentina and Uruguay. Our Texas de Brazil Chimichurri recipe is a knockoff recipe from Texas de Brazil which is a churrascaria, or Brazilian steakhouse.

Ingredients:
4 garlic cloves, rough chopped
1/2 cup fresh parsley
1/4 cup fresh cilantro
1 cup olive oil
1/4 cup fresh lemon juice
1 tablespoon dried oregano
1 tablespoon crushed red pepper
1/2 teaspoon salt

Directions:
1. In a food processor, pulse the garlic until it's minced.
2. Add parsley and cilantro and pulse until it's uniformly chopped.
3. Add oil, lemon juice, oregano, red pepper and salt and pulse until its well combined.