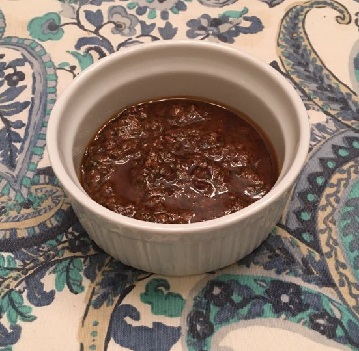 Smoky Red Chimichurri Recipe
Chimichurri is an uncooked sauce that can be used as a marinade, to baste meats or as a table condiment for grilled meats. Chimichurris are popular in Argentina and Uruguay. Our Smoky Red Chimichurri recipe adds a smoked pepper flavor to grilled meats. The flavor profile is similar to a smoky chipotle sauce.

Ingredients:
1 cup olive oil
1/4 cup red wine vinegar
12 cloves roasted garlic Roasted Garlic Recipe
2 chopped shallots
1/4 cup cilantro
2 tablespoons smoked paprika
2 tablespoons New Mexico chiles
1 teaspoon salt
1 teaspoon cumin
1/2 teaspoon crushed red pepper

Directions:
1. Combine ingredients in a food processor.
2. Pulse until well combined.