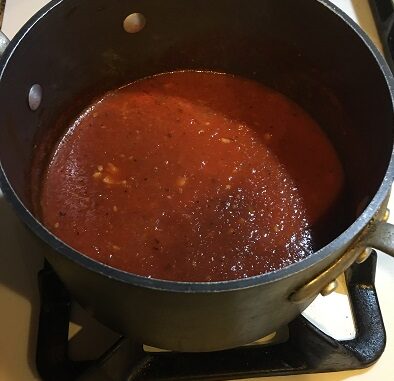 Easy Spaghetti Sauce Recipe
This is a quick and easy spaghetti sauce recipe without the frills. The sauce can be ready within 20-minutes and is an easy sauce to make for midweek meal preparation.

Ingredients:
1 tablespoon olive oil
1 clove garlic, minced
28 ounce can of whole peeled plum tomatoes (San Marzano)
1/2 teaspoon Italian seasoning
2 tablespoons sugar
1/4 teaspoon salt
pepper to taste
2 tablespoons fresh basil, rough chopped

Directions:
1. In a food processor or blender, puree tomatoes with juice for 15-seconds to your desired thickness.
2. In a saucepan over medium heat, sauté garlic in olive oil for 1-minute (make sure not to burn the garlic.)
3. Add tomato puree, Italian seasoning, sugar, salt and pepper and cook uncovered for 15-minutes. (Stir on occasion to prevent any burning.)
4. Remove from heat and stir in the fresh basil.