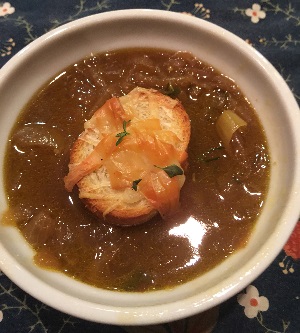 French Onion Soup Recipe
Our French Onion Soup recipe produces a flavorful soup that is topped with a cheese crouton that is made from baguette slices. It's a great dish for the fall and winter months!

Ingredients:
6 tablespoons extra virgin olive oil
3 lbs. medium yellow onions, halved and thinly sliced
3/4 teaspoon salt
1.5 tablespoons balsamic vinegar
1.5 tablespoons soy sauce
1.5 tablespoons fresh thyme leaves
4 garlic cloves, minced
3 tablespoons all-purpose flour
1 cup dry white wine
6 cups vegetable broth
Freshly ground black pepper
Baguette slices
Smoked Gruyère cheese
Fresh thyme
Pinch of red pepper flakes

Directions:
1. Heat oil in a large pot over medium heat.
2. Add onions, salt, and pepper and toss to combine.
3. Reduce the heat to low and cook for 40-minutes, stirring every few minutes.
4. Increase the heat to medium-high and cook for 20-minutes stirring often, until golden brown.
5. Add the vinegar, soy sauce, thyme and garlic and stir.
6. Sprinkle the flour on the onions, stir and cook for 2-minutes.
7. Stir in the wine and cook for 2-minutes.
8. Add the broth and simmer over medium heat for 30-minutes.
9. Preheat oven to 450F.
10. Place baguette slices on cooking sheet and top with cheese.
11. Bake 8-10 minutes.
12. Ladle soup into bowls and top each with the toasted baguette, fresh thyme and red pepper flakes.