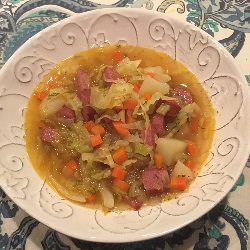 Kapusniak Recipe
Kapusniak, pronounced Kah-Pus-Knee-Ack, is a traditional Polish cabbage soup (Kapusta means cabbage). Depending on the region, the ingredients can differ. For example, the Czechs typically use cabbage, whereas the Poles favor sauerkraut. Our Kapusniak recipe uses chicken broth for a nice light base. We combine that with fresh cabbage and potatoes to make a nice healthy fresh soup.

Ingredients:
2 lbs. kielbasa
2 tablespoons extra-virgin olive oil
2 cups chopped onion
2 cups diced carrot
3/4 cup diced celery
2 large garlic cloves, minced
8 cups quartered and thinly sliced cabbage (about 1 pound)
8 cups chicken broth
4 cups diced peeled russet potatoes
1/3 cup chopped fresh dill
1.5 teaspoons caraway seeds, toasted and ground
1.5 teaspoons smoked paprika
3/4 teaspoon ground pepper
1/2 teaspoon salt
2 tablespoons white-wine vinegar
Fresh sauerkraut and/or sour cream for garnish

Directions:
1. Cut kielbasa in half lengthwise, and then cut into 1/4″ slices.
2. Cook in a large pot over medium-high heat until browned (5-minutes.)
3. Transfer kielbasa to a bowl or plate.
4. Add olive oil, onion, carrot and celery to pot stirring often until it begins to brown (5-minutes.)
5. Reduce heat to medium and continue to sauté for 4-minutes.
6. Add garlic and cook for 1-minute.
7. Add cabbage and cook for 3-minutes.
8. Stir in broth, potatoes, dill, caraway, paprika, pepper, salt.
9. Cover and bring to a boil.
10. Once boiling, remove cover and simmer for 30-minutes.
11. Stir in kielbasa and vinegar.
12. Serve with sauerkraut and/ or sour cream (optional).