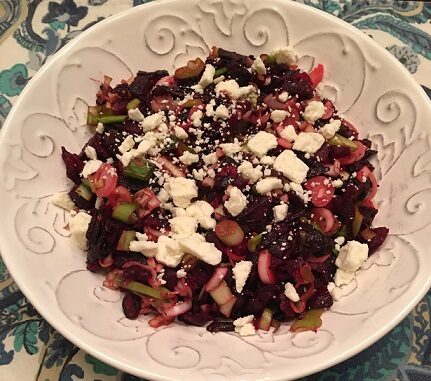 Roasted Beets with Feta Recipe
This Roasted Beets with Feta recipe is an easy recipe to make, which adds a nice accompaniment to your entrée. It combines the earthy beet flavor with fresh green onion and feta.

Ingredients:
4 medium sized beets
1 tablespoon olive oil
1 teaspoon salt
Fresh ground black pepper
4 chopped scallions
2 teaspoons lemon juice
Crumbled Feta

Directions:
1. Peel beets and cut into 1/2″ cubes.
2. Toss with olive oil, salt and pepper.
3. Put on a baking sheet and roast at 450F for approximately 35-minutes (or until tender.)
4. During the cooking time stir once or twice to ensure that the beets cook evenly and do not burn.
5. Once done, transfer to a bowl. Stir in scallions and lemon juice.
6. Top with crumbled Feta.