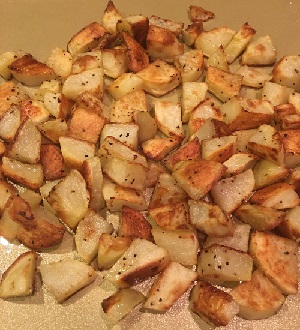 Roasted Potatoes Recipe
Our Roasted Potatoes recipe is an easy side dish to make. We combine salt, pepper, olive oil and allow the potatoes to roast at a high temperature.

Ingredients:
2 pounds potatoes cut into 1-inch pieces
2 tablespoons olive oil
1 teaspoon salt
1/2 teaspoon freshly ground black pepper

Directions:
1. Preheat oven to 450F.
2. Place potatoes in a large roasting pan and toss with oil, salt and pepper until well coated.
3. Spread potatoes out in a single layer.
4. Bake for 20-minutes.
5. Stir and bake and additional 10-minutes.