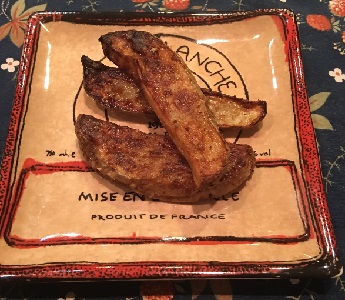 Oven Fried Potatoes Recipe
Our Oven Fried Potatoes recipe is an easy to make side dish, which requires very little work and just a few basic ingredients!

Ingredients:
3 medium Russet potatoes, scrubbed and dried
3 tablespoons olive oil
1 teaspoons Kosher salt
Pinch of cayenne pepper

Directions:
1. Preheat the oven to 450F.
2. Cut each potato in half, lengthwise.
3. Cut each half into 3 equal lengthwise wedges.
4. In a large bowl, toss the potatoes with oil, salt and cayenne.
5. Arrange the potatoes on a large baking sheet, evenly spaced, with the cut sides down. Make sure that the potatoes are not touching.
6. Bake for 30-minutes.
7. Turn potatoes over and cook for an additional 5-minutes.