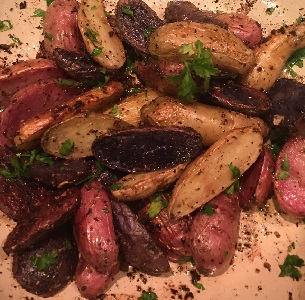 Roasted Fingerling Potatoes Recipe
Our Roasted Fingerling Potatoes recipe is a basic recipe that will add nice flavor to your fingerling potatoes. This recipe goes great as a side to most protein dishes.

Ingredients:
1.5 lb. fingerling potatoes, sliced in half lenghtwise
2 tablespoons butter, unsalted, melted
4 garlic cloves, minced
1 tablespoon Italian seasoning
1/2 teaspoon salt
1/2 teaspoon pepper
1 tablespoon olive oil
1 tablespoon fresh parsley, chopped

Directions:
1. Preheat the oven to 425F.
2. Toss potatoes with butter, garlic, Italian seasoning, salt and pepper.
3. Use the olive oil to grease a large baking dish.
4. Bake for 30-40 minutes, or until done.
5. Top with parsley.