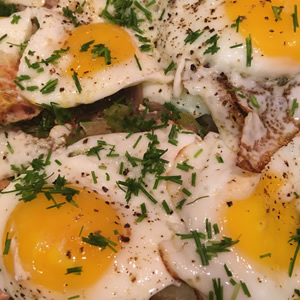 Salmon Hash and Eggs Recipe
Our Salmon Hash and Eggs recipe is high in protein and is versatile enough to cook for breakfast, brunch or even a dinner. The flavors of this dish meld well together, and it's definitely a must try recipe!

Ingredients:
8 oz. small new potatoes
1.5 teaspoon Kosher salt, divided
1 teaspoon black pepper, divided
2 tablespoons olive oil, divided
2 small bell peppers, chopped
1 small red onion, chopped
1.5 pound skinless salmon
5 large eggs
3 tablespoons chopped chives

Directions:
1. Place potatoes in a saucepan and add enough water to cover by 2-inches.
2. Bring to a boil, add 1 teaspoon salt and boil 15-minutes.
3. Drain, let potatoes cool and then cut each in half.
4. Heat 1/2 tablespoon oil in a large skillet over medium heat.
5. Add bell peppers and onion, season with 1/4 teaspoon of salt and 1/4 teaspoon pepper and sauté (6-8 minutes.)
6. Once done, transfer to a bowl.
7. Heat 1/2 tablespoon oil in same skillet over medium.
8. Season salmon with 1/4 teaspoon each salt and pepper and cook until browned (3-minutes/ side.)
9. Take out the salmon, wipe the skillet clean and add 1/2 tablespoon oil, potatoes (cut side down), increase the heat to medium-high and cook for 4 minutes.
10. Return vegetables to skillet and toss to combine.
11. In a separate skillet, heat 1/2 tablespoon oil over medium.
12. Add eggs and cook to desired doneness (3-minutes for sunny side up eggs.)
13. Season eggs with salt and pepper.
14. Cut salmon into 2-inch chunks and add to the potato mixture with 2 tablespoons chives, and mix.
15. Serve eggs over the salmon hash and sprinkle with remaining chives.