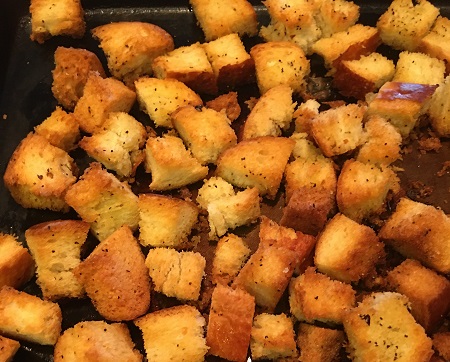 Croutons Recipe
Did you know that making croutons is a really easy thing to do? Instead of throwing away hard French bread, make croutons for soups or salads. This croutons recipe shows you how to make basic croutons, but you can season them with Italian seasoning, garlic powder or other herbs and spices!

Ingredients:
Day old French bread
Olive Oil
Kosher salt
Fresh ground black pepper

Directions:
1. Preheat oven to 400F.
2. Cube bread and place in a large bowl.
3. Drizzle cubes with olive oil, then season with salt and pepper.
4. Mix the cubes well.
5. Spread cubes in a single layer onto a sheet pan and bake for 15-minutes.
6. Lets croutons cool and you can store them for up to 2-weeks.