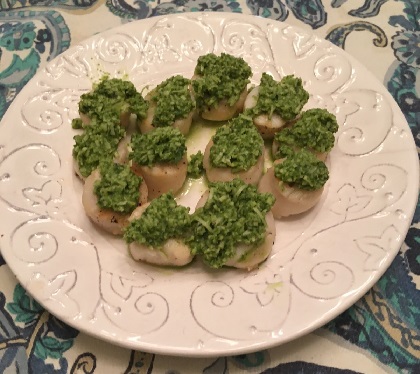 Scallops with Mint Chutney Recipe
This Scallops with Mint Chutney recipe is an easy way to flavor seared scallops. The recipe can be served as an appetizer or an entrée, and is low on labor and big on flavor!

Ingredients:
Mint Chutney
16 scallops, cleaned
Kosher salt
Freshly ground black pepper
4 teaspoons olive oil

Directions:
1. Rinse the scallops with cold water and pat dry with paper towels.
2. Add the olive oil to a large sauté pan on high heat.
3. Salt and pepper the scallops.
4. When oil begins to smoke, sear the scallops for 1.5 minutes on each side.
5. Top each scallop with a dollop of the mint chutney.

Wine Pairings:
We preface all of our wine pairing suggestions by letting you know that it's really a matter of personal taste. While we do offer our opinions and why we selected a specific varietal, there is no right or wrong answer when pairing a wine with your dinner.

Sparkling Rosé
This Scallops with Mint Chutney recipe adds the fresh taste of the scallops with the spice of the serrano and the sweetness of the coconut. It's a delicious assortment of flavors and would stand up well to a Sparkling Rosé. The Sparkling Rosé is not overly sweet and the bubbles add a nice complexion to this dish. Follow the link to our wine review site to find our favorite Sparkling Rosé wines-LetsHaveWine.com

Have you tried this recipe? If so, leave us your comments below!