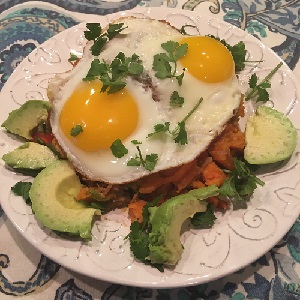 Sweet Potato Carnitas Hash Recipe
Our Sweet Potato Carnitas Hash recipe is a tasty recipe for leftover carnitas. The sweetness of the sweet potatoes combined with the saltiness of the pork, is a match made in Heaven! This dish is versatile, as it can be served for breakfast, brunch or dinner.

Ingredients:
2 tablespoons olive oil
2 medium sweet potatoes, peeled and cut into 1″ cubes
1 red bell pepper, thinly sliced
1 green bell pepper, thinly sliced
1/2 onion, thinly sliced
1/2 teaspoon Kosher salt
1-2 cups Carnitas
2 Eggs, fried
1 Avocado, thinly sliced
Fresh cilantro for serving

Directions:
1. In a large skillet, heat olive oil over medium-high heat.
2. Fry sweet potatoes, turning occasionally when they start to brown (around 5-minutes).
3. Add the onion and peppers and sauté until the vegetables are tender (around 10-minutes).
4. Add the carnitas and cook until warmed through.
5. Season with salt.
6. In a separate frying pan, fry eggs.
7. When serving, place hash on a plate.
8. Top with egg, avocado and cilantro.